PRESS RELEASE

Two months ahead of schedule, the first Siemens 6MW wind turbine has started supplying the German electricity grid with wind energy from the Veja Mate Offshore Wind Farm. This marks an important milestone ahead of the following installation of another 66 WTGs being loaded out from Danish port Esbjerg to the Veja Mate-site off the German North Sea coast some 95 km off the island of Borkum.

OSK-Offshore A/S has assisted and worked in close cooperation with Fred. Olsen Windcarrier (FOWIC) fitting FOWIC's Windfarm Installation Vessel Bold Tern for all aspects of the installation project and is behind a wide range of expert design solutions on board Bold Tern: All seafastening design and related analyses and documentations - Detail design for production for the wind turbine components - Foundation for upright transport of towers - Blade rack 'over the shipside' supporting structure - Nacelle fastening - Miscellaneous auxiliary lifting equipment to be mobilised on board the vessel - Analysis and design of necessary modification of supporting deck structure.

"These large-scale projects allow us to fully apply our extensive offshore design knowledge when designing custom solutions for the installation vessels. And in doing so also to push the environmental operational limitations to new standards," says Anders Ørgård, Chief Commercial Officer of OSK-Offshore A/S.

He continues: "We've worked with FOWIC on several of their installation projects; e.g. repair works regarding Moray Firth Offshore Windfarm as well as initial design relating to Wikinger Offshore Wind Farm. And, adding to that we've supplied offshore design services to other installers like Swire Blue Ocean, A2Sea and Van Oord. With Europe as the driving force of offshore wind-production, and with more than 15 years' experience in seafastening design, OSK-Offshore continues to supply high-quality and effective design solutions for the industry."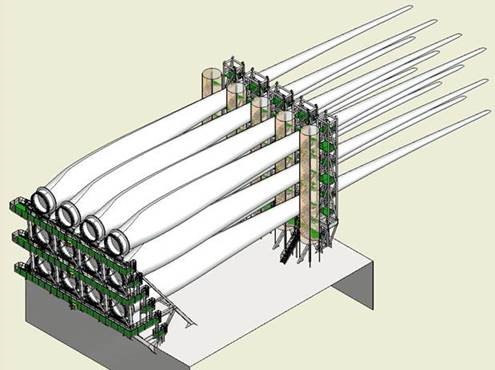 The entire mobilisation of Bold Tern was completed in just three weeks, and the subsequent installation of the remaining 66 Veja Mate-turbines has commenced in January 2017. When the final turbines are installed, Veja Mate Offshore Wind Farm will stand as a 402 MW and €1,9 bn. wind farm capable of supplying 400.000 German homes whilst annually relieving the environment of 700.000 tons of CO2 emissions for the following 25 years.
Images: FOWIC's Windfarm Installation Vessel 'Bold Tern' and arrangement of Blade Structure for Siemens B75 Wind Turbine. Copyright OSK-Offshore,

RENews.biz: Danes fit out Bold Tern
Offshore Wind: OSK-Offshore preps Bold Tern for Veja Mate
Wind Energy Business Review: Danish offshore design solutions behind Fred. Olsen Windcarriers successful Veja Mate-installations Marine Log: Danish design firm helps speed wind farm-installation