Naval architects OSK-ShipTech and ship interior designers Steen Friis Design – both part of OSK Group – have been awarded for their outstanding designs at the Shippax Ferry Conference 2019.

Two of OSK Group's companies have just received the highest stamp of approval in the ferry industry as they are both awarded for their design contributions at the Shippax Ferry Conference 2019 taking place aboard SILJA SERENADE at the time of writing.
MV Visborg – Shippax Technology and Design Award
Newly delivered newbuilding MV Visborg wins the 'Shippax Technology and Design Award 2018'. She is the largest LNG-powered ferry in domestic service and represents a further evolution of Rederi AB Gotland's earlier generations of vessels also built at Guangzhou Shipyard International (GSI). Due to new regulations, including SRtP (Safe Return to Port), the MV Visborg was a far more complex ship to build and its LNG propulsion was a first for a RoPax built in China.
"Being the most powerful of its kind, MV Visborg marks a new era for the Scandinavian-Asian collaboration between us as designers, owners Rederi AB Gotland, and builders GSI," says Kristian Lind, Chief Technical Officer of OSK Group. He continues: "I am immensely proud of the technical design team who has ensured a significant reduction on fuel consumption as well as CO2, NOx, and SOx emissions."
OSK Group has played a significant role in the development and design of the powerful dual fuel RoPax ferry. OSK-ShipTech has had a dual role being consulting naval architects for the owner during concept and contract designs and for the yard for parts of basic naval architectural- and interior designs as well as exterior design.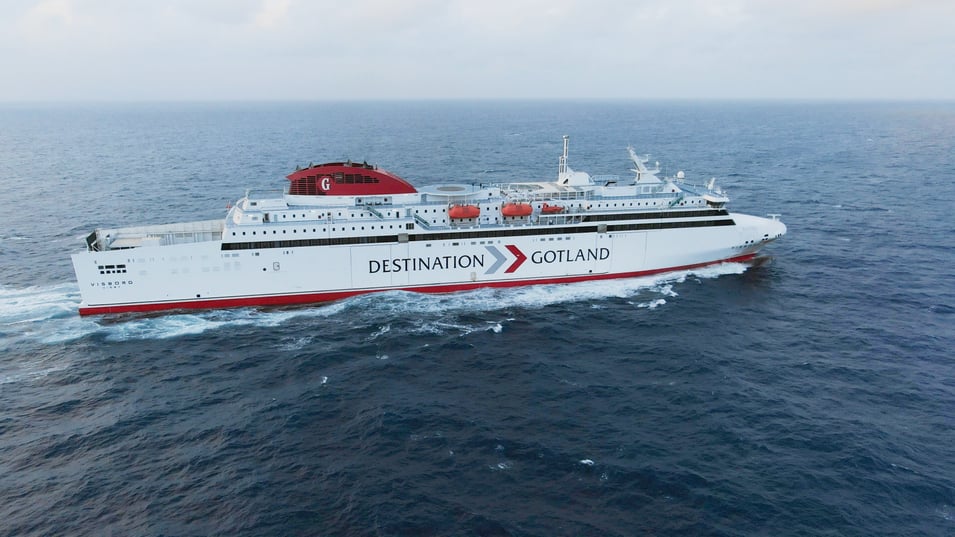 MV Visborg, the world's most powerful LNG-powered domestic RoPax earning a top speed ranking of 31 knots during trials
W.B. YEATS – Shippax Ferry Concept Award
Irish Ferries' newbuilding W.B. Yeats wins the 'Shippax Ferry Concept Award 2018'. Besides being so flexibly designed that she can be used for operation on all Irish Ferries' existing routes – both short and long – between Ireland, France, and Britain, she is the first European RoPax newbuilding to be equipped with scrubber technology. On the interior side, passenger comfort, easy access, and recreational facilities have been paramount in the design process and the result is a modern ferry with a series of outstanding public areas.
"Irish Ferries is a new client for us, and what better way to start a relationship than to take home an award for their newbuilding!" exclaims Anders Ørgård, Chief Commercial Officer of OSK Group. And, he continues: "We are very grateful to have been part of this big collaboration between owners Irish Ferries, builders and designers Flensburger Schiffbau-Gesellschaft, OSK-ShipTech, and Steen Friis Design."sults for your project at all times.
For Jacob Thygesen, CEO of OSK Group, the two awards mark a significant moment in the group's strategic journey: "These two awards really underpin the strategic development of OSK for the past couple of years and now we see our ventures pay off." He continues: "Parallel to the building of Gotland's VISBORG and THJELVAR, we have established the joint venture SinoDane (Guangzhou SinoDane Ship Design Co. Ltd.) together with GSI to ensure high-quality RoPax tonnage based on Danish design and international standards. Also, back in 2016 we acquired Steen Friis Design adding their strong brand and interior expertise to our consultancy portfolio. Now receiving two awards for two projects is a dream scenario for us. From a designer's point of view, we are so proud to be rewarded for our designs. And from a consultant's point of view, it is very satisfying to know that we can offer our customers the full synergy effect of having all marine consultancy and interior design services in-house taking their projects from initial ideas and concepts to award-winning vessels."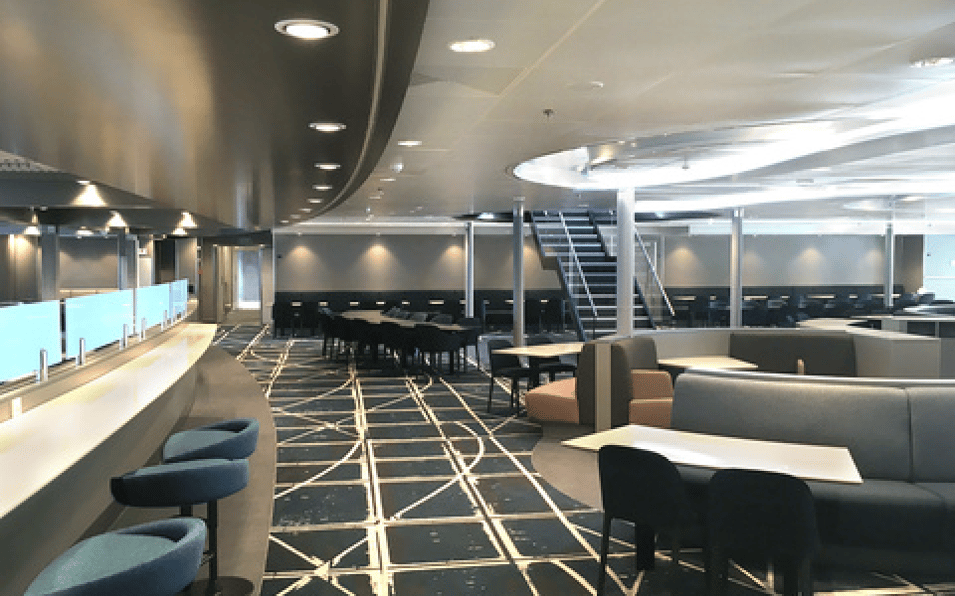 Interior by Steen Friis Design: Boylan's Brasserie aboard Irish Ferries' W.B. Yeats
SPECIFICS
MV VISBORG – Shippax Technology and Design Award 2019
Owner: Rederi AB Gotland
Shipyard: Guangzhou Shipyard International
Naval Architect: OSK-ShipTech A/S
W.B. YEATS – Shippax Ferry Concept Award 2019
Owner: Irish Ferris
Builders & Designers: Flensburger Schiffbau-Gesellschaft
Owner's Consultant: OSK-ShipTech A/S
Interior Designers: Steen Friis Design A/S